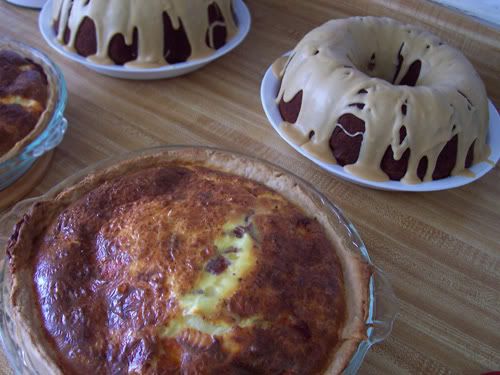 I have 15 year old son...who is 6'2" tall and weighs in at 212 pounds, none of which is fat. As such, when I cook I make enough to feed a small army and its host nation. I still rarely have leftovers for more than two days.
Bren is currently in a phase where he doesn't particularly appreciate the incredible edible egg. However, when I bust out the Quiche Lorraine, he starts salivating like one of Pavlov's dogs the second I start putting ingredients on the counter. He doesn't stop until he's eaten half of one dish and is lying on the couch in a savory egg custard coma. I threw in the cakes because I was feeling like a bit of kaffeezeit.

Quiche Lorraine (adapted from The Best of Baking by Annette Wolter and Christian Teubner)
7 tbs butter, cold and cut into small cubes

For the Filling:
1/2 - 1 lb of Black Forest ham, finely cubed
8 oz extra sharp Vermont white cheddar cheese, shredded or finely cubed
6 eggs
2 cups of heavy cream
salt
pepper
ground nutmeg

Preheat oven to 350 degrees. Mix flour and salt together in a medium bowl. Cut in butter with a pastry blender or rub in with your fingers (I've never been able to get the two knives technique to work for me). Mix in 3 tablespoons of ice water with a fork. If dough does not start to pull together add another tablespoon of water. Remove dough from bowl and knead as briefly as possible to bring dough together into a ball. Pat into a disc, wrap in plastic wrap and refrigerate for 30 minutes. Remove pastry dough from the refrigerator, dust a clean counter with flour and roll pastry to fit a 10-inch pie plate. Wrap dough around rolling pin and gently pat into pie plate. Place pastry in freezer.
Break the eggs into a 4 cup measuring cup and beat with a fork until whites and yolks are mixed. Add heavy cream to eggs and mix together until well combined. Season with salt and pepper to taste and stir to incorporate. Finely cube the ham and the cheese. Remove the pastry from the freezer and sprinkle the ham and cheese over it evenly. Pour the custard mixture over the ham and cheese. Sprinkle top lightly with nutmeg. Place in the middle of preheated oven and bake for 45 minutes or until center is barely set and top is browned. Let sit for 5-10 minutes before cutting. The above recipe can be doubled (see picture).
Fruited Spice Cake (Recipe makes 2 cakes)
1 3/4 cups granulated sugar
2 - 15 ounce cans pear halves, finely diced
3 tbs strong coffee, preferably espresso
Preheat oven to 340 degrees. Grease and flour two 10-cup bundt pans. Mix together dry ingredients in a large bowl; set aside. Mix wet ingredients thoroughly in a medium bowl. Add wet ingredients to dry and stir together until moistened through. Evenly pour batter into bundt pans and bake for approximately 1 hour and 20 minutes, or until a tooth pick comes out clean. Cool in pans for 10 minutes then invert onto wire racks to cool completely.
Sift powdered sugar into a medium bowl. Stir in melted butter, coffee and extract until glaze is smooth. It should fall in a thick ribbon, if it is too thin add a bit more powdered sugar. If it is too thick add a bit more coffee. Drizzle over cooled cakes and let the glaze set for about an hour before serving.