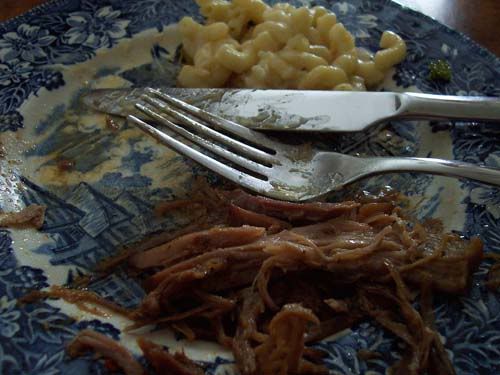 What you see above is the remains of the pulled pork, macaroni and cheese, and broccoli meal I made the other night. I *may* have forgotten about pictures until we were all sitting around being fat. It was so tasty, we really didn't think about anything else outside of "where's my fork?".

Now, pulled pork is probably a misnomer for what I made, but I've always called it that and I'm not going to stop now. It's kind of like my sister and I calling Nitzer Ebb Nitzer with a short i instead of a long i as we found out it was actually pronounced years later. It's still Nitzer with a short i to us...and what I make is still pulled pork to me no matter that it's technically slow cooked pork.

Pulled pork is extremely easy to make and can be taste customized to the extreme. All you need is a nice piece of pork shoulder, an assortment of herbs and spices, and an oven. For the pork I made I used a 10 pound bone-in pork shoulder, which is actually pretty large. You can certainly use a smaller one, but make sure that it is bone-in for the best flavour. Let your pork sit out until it's room temperature. Then pre-heat the oven to 275 degrees. Mix together the herbs and spices of your choice, along with salt, and rub and press this mixture all over the pork shoulder. Place the pork in a large baking dish, cover tightly with foil and place in the oven. Let the pork cook, depending on weight, anywhere from 4 to 6 hours. You will know it is done when it is so tender, it pulls apart easily with a fork. Allow pork to cool for a few hours, then pull apart with either forks or your hands. There will be a fair amount of juice in the bottom of the baking dish that can either be poured over the pulled pork or used as a base for homemade barbecue sauce. I poured it over the pork because not everyone likes barbecue sauce in my house. Use the pork for sandwiches or serve as is with the side dishes of your choice.

The mixture I used on my pork contained the following:
kosher salt
freshly ground black pepper
rubbed sage
sweet Hungarian paprika
garlic powder
ground coriander
ground ginger
crushed red pepper flakes
light brown sugar

The macaroni and cheese was homemade as well. It was amazing and quite simple.
1 pound uncooked elbow macaroni
3-4 cups bechamel sauce
2 cloves garlic, crushed
8 ounces extra sharp Vermont white cheddar, shredded
8 ounces Havarti, shredded

Heat bechamel sauce over medium heat until simmering. Stir in the garlic. Slowly whisk in the shredded cheeses by the handful until each is melted and blended in. Turn off heat half way through. Boil macaroni until al dente, drain and add back to the pot. Pour cheese sauce over macaroni and fold in. Serve immediately. My kids are spoiled for mac and cheese now.