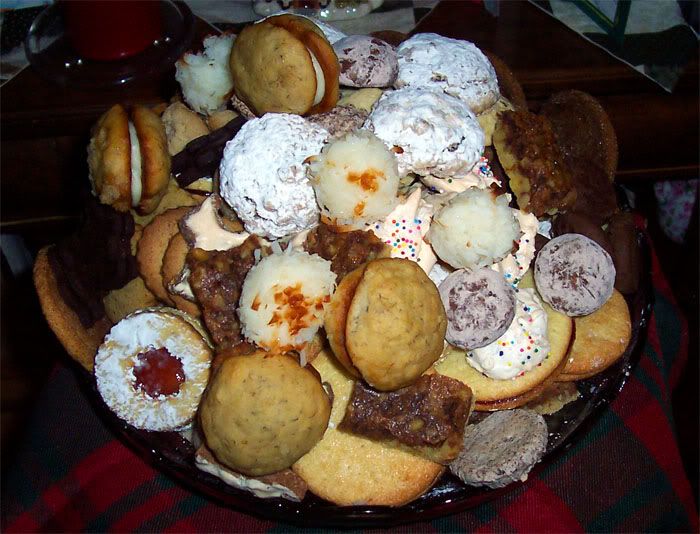 We spent Christmas up at my mom's in Michigan with my sister and her beloved, my oldest and his beloved, and my mom and my dad. Instead of presents we came together as a family and spent time together doing nothing particularly special, but having the best Christmas any of us have had in years. There was a LOT of good food, seriously intense games of Scrabble, cribbage and Rummikub, several viewings of How to Train Your Dragon, The A-Team and Avatar, one fabulously hilarious Night of the Laptops, and many cookies and goodies made by myself, my sister and my mother.
From my end of the baking came the following:
Swedish Ginger Cookies
Cinnamon Giraffes
Aniseed Cookies
Chocolate Almond Macaroons
Coconut Macaroons
Mexican Hot Chocolate Balls
Amaretti
Mint Chocolate Elephants
Espresso Biscuits
Drommar
Buttery Pistachio Cookies
Meringues
Banana Whoopie Pies
Schiklosch
And because I had the time, I made a bunch of candy type things as well.
Rum Balls
Chocolate Dipped Fruits
Chocolate Dipped Marshmallows
Hazelnut Butter Balls
Eggnog Balls
Two-Tone Fudge
Raffaello
Peanut Brittle
All in all, better than any present that could come from under a tree.