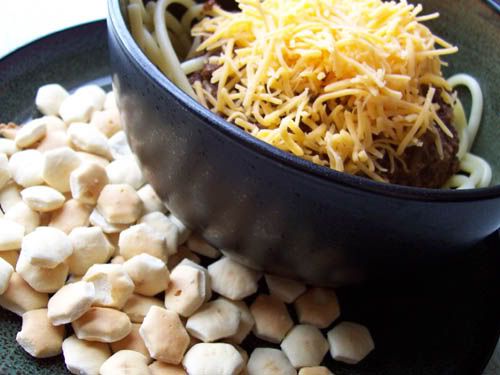 Many moons ago I had a cooking site on livejournal. It was a good site and I enjoyed posting to it. Over the years I lost touch with the people there and stopped posting, partly because I lost interest in social networking sites but mostly because my personal life became complicated as hell and I stopped doing a lot of things in general.
Since I'm going through a bit of a dry spell with my cooking at the moment I thought I'd go back to that site and re-post some of the recipes here. The first one up is my Cincinnati Chili. It's really easy to make and tastes like a dream.
Cincinnati-ish Chili
4 cups water
3 - 8 ounce cans tomato sauce
1 - 14 1/2 ounce can stewed tomatoes
1 tablespoon Worcestershire sauce
2 large onions, chopped
3 teaspoons garlic, minced
3 bay leaves
3 tablespoons chili powder
2 tablespoon unsweetened cocoa powder
1 teaspoon ground black pepper
1 teaspoon ground cumin
1 teaspoon ground allspice
1 teaspoon ground cinnamon
1/4 to 1/2 teaspoon ground cayenne
2 pounds beef, finely ground
salt
Stir all ingredients, except ground beef and salt, in a large pot and bring to a simmer over medium heat. Add ground beef and stir with a wooden spoon to break up. Turn heat to medium-high and boil until ground beef is cooked thoroughly. Lower heat to medium and simmer for 2 to 3 hours, stirring occasionally. Add salt to taste. Serve with the traditional accompaniments of spaghetti, kidney beans, onions and huge mounds shredded cheddar cheese. Oyster crackers could be served on the side and if you're feeling really non-traditional you could dollop on some sour cream, because it's yummy....really, really, yummy.
Make sure the ground beef is as finely ground as possible. You can get it this way from a good butcher. When you put it into the liquid mixture while it is raw and break it up with a spoon, it should almost homogenize. I know, sounds weird, but it makes for a very smooth chili. Also note that this chili is thin, not thick, like a marinara sauce. If you can hold out I would suggest putting the whole pot into the refrigerator and eating it the next day. As with most stews and soups, it truly is better after sitting for a good 24 hours.
Serving suggestions:
2-Way: chili served over spaghetti
3-Way: chili served over spaghetti topped with copious amounts of shredded sharp cheddar
4-Way: chili served over spaghetti topped with chopped onions and then copious amounts of sharp cheddar cheese
5-Way: chili served over spaghetti topped with kidney beans, chopped onions and copious amounts of sharp cheddar cheese