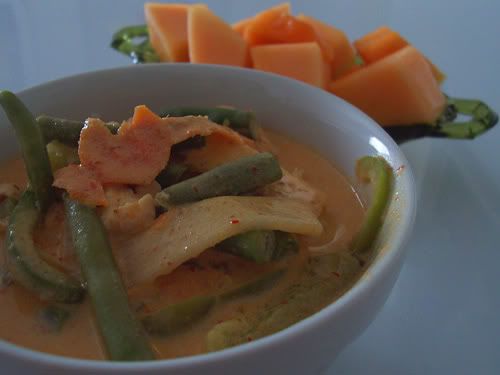 It's been a while, but sometimes life will intrude on the things you want to do in your spare time. Well, I'm back now and with a super delicious recipe to warm you up. Ok, that's probably not what you want at this time of year in the Northern hemisphere, but that's what you get...deal with it.
When we lived in Washington state just outside of Tacoma, my sister introduced me to this little bitty place called Bangkok Thai....and therein we did have some of the best Thai food we've ever had. It was so good, it became our guilty pleasure. And while they had quite an extensive menu of delectable treats, she always ordered the Pad Thai and I always ordered the Red Curry Chicken, which we would share because the portion sizes were family style. We'd also share an order of Thai Spring Rolls, but I can't talk about them now because this isn't that kind of blog.
I haven't had either dish at any other Thai place that I liked better. However, I have tried a few times to make Red Curry Chicken that tasted close to it....and last week I finally succeeded. There were shouts of joy and a few tears were shed. Just to note before you even get started on this one, you can adjust the amount of the red curry paste that you add. Adding the full amount I listed is akin to number 3 or 4 on a Thai restaurant's "How Badly Do You Want To Burn Your Mouth" o'meter.
Red Curry Chicken
3 chicken breast halves, very thinly sliced
1 medium bell pepper, julienned
2 carrots, very thinly sliced
1 cup fresh green beans, trimmed
1 - 8 ounce can bamboo shoots, drained
4 - 13.5 ounce cans coconut milk
1 - 4 0unce can red curry paste (I use Maesri brand)
2 tablespoons canola oil
chilli paste with sweet basil leaves (optional)
In a small stock pot heat the oil and fry the curry paste for about 3 minutes. Add the carrots and cook for about 2 minutes more. Add the green beans and cook for about 2 minutes more. Add the bell pepper and cook for about 3 minutes. Add the coconut milk and stir to combine. Add the chicken breasts and bamboo shoots, cover and simmer until chicken is cooked through. Stir in chilli paste to taste or, if you can find it, about 2 tablespoons of Thai basil. Serve over jasmine rice.