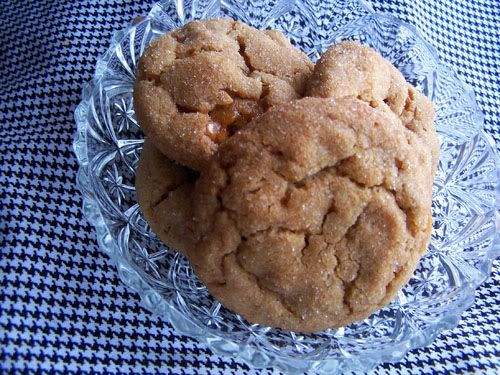 You see those cookies there? They are some of the most amazing cookies ever. No joke. And when you read the ingredients there will be a few that make you either scratch your head or make you think "no, no, no". And that's fine, you can substitute for them if you'd like, but they won't have the taste OR the texture that'll make you jizz in your pants.
Peanut Butter Candy Cookies
1/2 cup manteca (that's lard, people)
1 cup smooth peanut butter
1 1/2 cups light brown sugar, packed
2 large eggs, room temperature
12 ounce package peanut butter chips
1 cup roughly crushed peanut brittle
3/4 teaspoon baking powder
1 teaspoon good quality fine sea salt
Preheat oven to 350 degrees. Cream margarine, manteca and peanut butter with an electric mixer until well mixed. Add in brown sugar and white sugar, and cream until fluffy. Add eggs, one at a time, and mix until well incorporated. Remove bowl from mixer and use a wooden spoon to mix in the peanut butter chips and crushed peanut brittle by hand. Mix flour, baking powder, baking soda and salt together and add to the butter mixture by hand. The dough will be very soft. Mix demerara sugar and sea salt together in a small bowl. Using a 1 1/2 tablespoon cookie scoop, form dough into balls, roll in sugar-salt mixture and place on a parchment covered cookie sheet. Bake in preheated oven for 13 to 15 minutes. Cool on a wire rack and then eat...or eat them fresh out of the oven if you want to burn your tongue, not that I would know about that first hand or anything. Makes 4 1/2 to 5 dozen, depending on how much of the dough you eat...again, no direct knowledge of this kind of thing myself.