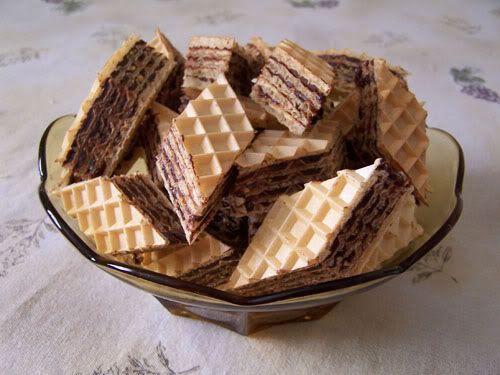 Best friends are awesome. My best friend, April, is more awesome than most in my opinion. No matter what, and I really do mean "no matter what", she has been and always will be there for me.
We try to get together once a week to sit around, talk and on occasion write on our perpetually changing book. More often than not we meet up at my place which means that I get to cook up a storm for the two of us and we eat such things as red curry chicken and spaghetti bolognese at 9 o'clock in the morning. If I can swing it, I really like to make something desserty to go with the meal. Because how could that possibly be a bad thing?
Last week I made the beauties you see above. In Serbian/Bosnian (Yugoslavian for me) they're called oblatne. My oma, who was German by way of Hungary, called them oblaten, though strictly speaking oblaten in German are exceptionally thin edible wafers that go under cookies such as lebkuchen so that they don't stick to the pan when baking. The treats above are wafer cookies that are very simple to make. The wafers themselves come in packets of five and just about any filling that is spreadable can be put between them. That's the only "hard" part, figuring out what you want to put in between; Nutella, pastry cream, peanut butter and jelly, marshmallow creme, et al. The fillings that I know are the ones that my oma and mom made to put inside, chocolate with nuts and lemon with nuts. I opted for the chocolate because Karina isn't chuffed with lemon and I knew April would not have any objection to anything with chocolate.
I got the recipe from my mother when we were up at her place for Christmas, she also gave me the packet of wafers, which she bought when she was in Germany. They can be bought here in the states in stores specializing in Eastern European or German foods, or on the internet. The internet option may be more viable if your local specialty store runs out of them as fast as they get them in, like mine.
Chocolate filled Oblaten
1 packet 18" x 11" (47cm x 29cm) wafers
filling:
6 eggs
2 1/2 cups powdered sugar
3/4 pound unsalted butter, room temperature
12 ounces bittersweet chocolate, chopped
1 1/2 cups nuts, finely ground (I use pistachios this time)
In the top of a double boiler whisk together eggs and powdered sugar until thick and pale yellow, and mixture reaches 160 degrees. Remove from heat, add in butter and chocolate, and stir until completely incorporated. Stir in ground nuts. Mixture should be room temperature by this point, if not allow to cool to room temperature. On the first wafer, smooth side down, spread 1/4 of the mixture evenly and thinly. Place a second wafer on top with the smooth side down. Spread 1/4 of the mixture over the second wafer and repeat two more times with remaining mixture and wafers. Put plastic wrap on the top wafer and then lightly weigh down finished oblaten with a board. Let oblaten sit for approximately 8 hours or over night. Using a sharp knife trim ends from oblaten, cut into 2 inch strips using the wafer pattern as a guide, and then cut strips into diamonds or rectangles.