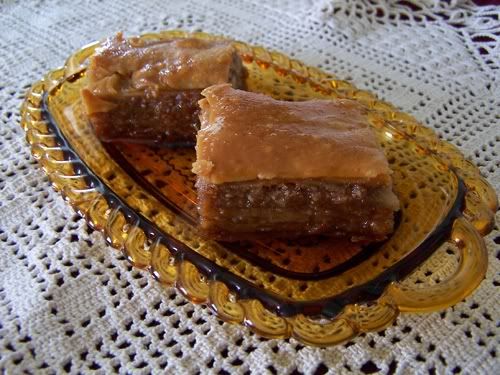 Erica of Erica's Edibles was our host for the Daring Baker's June challenge. Erica challenged us to be truly DARING by making homemade phyllo dough and then to use that homemade dough to make Baklava. This challenge was easy and hard all at the same time.  
I've been making baklava since I was 13 or 14 years old.  My mother brought home a Greek cookbook that had been translated into English and I was the first one to make it from there.  The rest is history.  Baklava has since become one of my most requested dishes. Given that, I found the challenge easy because I knew what to do, what to expect and what to look for.
The hard part, of course, was making my own phyllo.  Phyllo, for those who don't know, is a paper thin sheet of raw dough.  The commercially produced phyllo can be difficult to work with because it dries out quickly and can crack or tear.  Homemade phyllo has about a hundred more difficulties on top of those.
Let's talk about those, shall we?