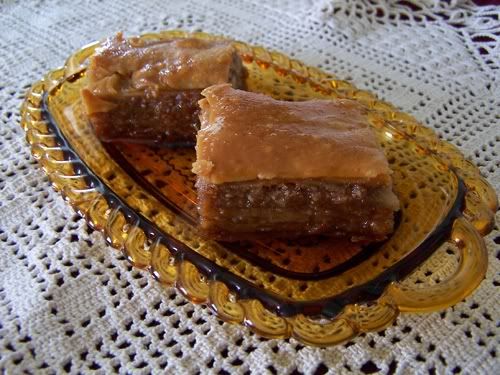 Erica of Erica's Edibles was our host for the Daring Baker's June challenge. Erica challenged us to be truly DARING by making homemade phyllo dough and then to use that homemade dough to make Baklava. This challenge was easy and hard all at the same time.
I've been making baklava since I was 13 or 14 years old. My mother brought home a Greek cookbook that had been translated into English and I was the first one to make it from there. The rest is history. Baklava has since become one of my most requested dishes. Given that, I found the challenge easy because I knew what to do, what to expect and what to look for.
The hard part, of course, was making my own phyllo. Phyllo, for those who don't know, is a paper thin sheet of raw dough. The commercially produced phyllo can be difficult to work with because it dries out quickly and can crack or tear. Homemade phyllo has about a hundred more difficulties on top of those.
Let's talk about those, shall we?
First and foremost is making sure that your dough has rested enough. If you make it and only wait 30 minutes or so, the dough will still resist the hell out of being rolled at all, let alone paper thin.
As you can see, my dough was extremely relaxed. Hell, it was so relaxed I had to take away its scotch and pipe. You can also see that I started out with a very excellent plan: use the pasta machine to roll out the dough. Karina and I had once made a ravioli dough with it that was so thin you could see the filling through it. Unfortunately for me, all my dough wanted to do was ooze through the rollers. Perhaps 8 hours was too long of a resting period (though I will be using this recipe and the extreme length of time for resting the next time I make strudel, this dough stretched perfectly and I didn't even have to try).
So I busted out my rolling pin and had at it.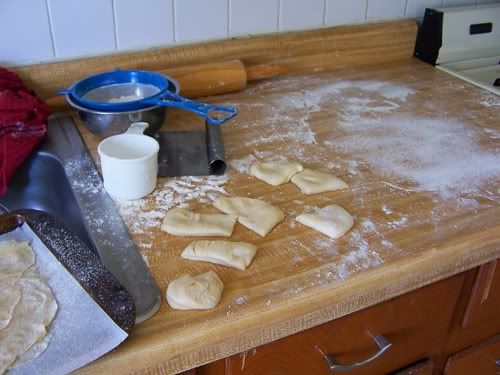 As you can see I had flour everywhere. I cleaned up flour from places I didn't know I could get flour stuck and yet I should have used more, but I'll get to that part. In fact, you cannot possibly use too much flour when rolling out phyllo by hand. You should probably just bathe in it and get it over with.
In the lower left corner you can see the sheet pan with some already finished layers. I had seen photos from other participants and their sheets looked either round or square. Mine? Not so much, as you can tell from just that small corner. I had several shaped like Africa, one or two vaguely resembling Australia, a few phallic looking ones, and even one that looked like the Starfleet emblem. The problem that this posed was that I could not easily fit the pieces into my pan. I had to patch and cut and patch and cut. It was a pain in the ass and very time consuming. Also, since the dough was fresh it was still pliable. I lost a couple of sheets simply because they stretched to the breaking point.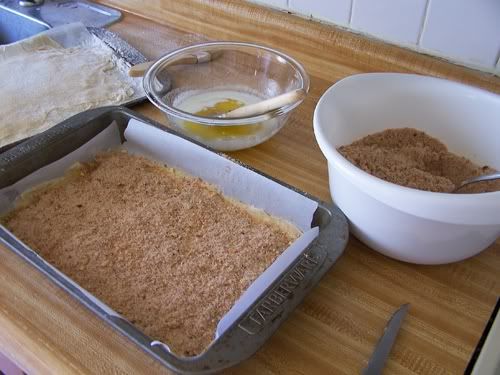 And despite the fact that I floured generously between each layer (I even had to take out another pastry brush just to remove the excess flour before using each sheet) I had about half of my layers stuck together. These had to be rerolled. It did not go well.
I ended up with fewer layers, as evidenced by my barely half full pan, and those that I was able to use rerolled were thick and tough.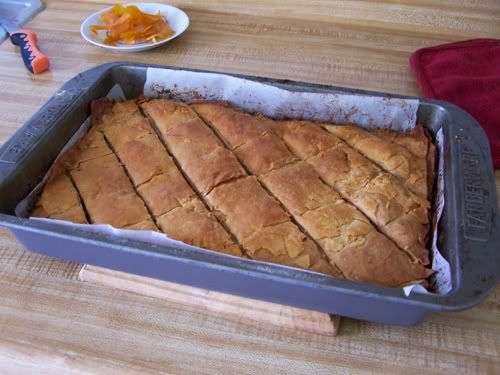 After baking you can see that the top layers are thick and dry. Normally these layers are flaky and have a nice sheen from the butter.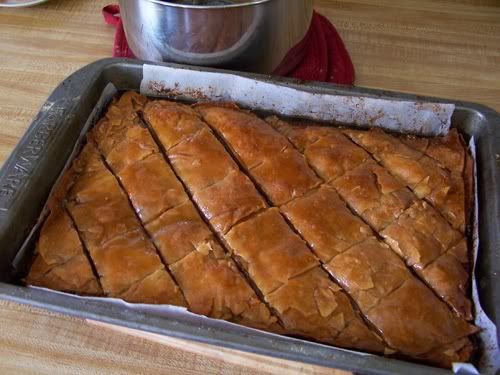 The finished pan did look better after adding the syrup, but it was difficult to actually get a fork through.
Ok, enough about the dough. I used my standard almond filling and syrup to complete the dish, though I did use smoked almonds instead of raw or roasted ones. We didn't taste any smokiness in the finished baklava, but the balance it added overall was amazing.
Mix flour and salt together in a medium bowl, make a well in the center. Mix water, oil and vinegar together and pour into flour well. Stir together until a soft dough is formed. Turn out onto a floured surface and knead until smooth. Place the dough into an oiled bowl, cover with plastic wrap and let rest for 2 hours.
Cut dough into small balls and either use a rolling pin or a pasta machine to roll dough as thin as possible. It should be thin enough that you can read through it. Place sheets, flouring well between each one, on a pan until ready to use.
peel of one orange, in large strips
Mix all ingredients together in a medium saucepan. Bring to a boil and reduce heat to medium low. Allow syrup to simmer, stirring occasionally, until orange peel is translucent. Set aside.
1 pound smoked almonds, ground*
2 teaspoons ground cinnamon
Mix all ingredients together in a bowl. Set aside.
Preheat oven to 350 degrees. Butter a 9 x 13 pan (line with parchment if desired). Place several layers of phyllo dough in the pan, buttering generously between each layer. Sprinkle some of the almond mixture evenly over phyllo. Add three more layers of phyllo, buttering generously between layers. Sprinkle evenly with more of the almond mixture. Continue this until you only have 4 sheets of phyllo left. Place those on top, buttering generously between each layer. Score the top of the baklava into desired shapes. Bake for 1 hour, or until medium golden brown. Take a sharp knife and cut baklava completely through along score lines. Heat reserved syrup until hot, remove whole spices and orange peel, then ladle generously and evenly over baklava. The amount of syrup you add is up to you, but you do want to make sure that it soaks in thoroughly, otherwise your baklava will be dry. Allow to sit overnight (if possible) before serving.
*

I have a manual grinder that grinds the nuts to an almost powder consistency. This makes the filling very smooth and able to soak up the syrup without it being drippy or oozy. You can use a food processor to grind the nuts, but they will be coarse in comparison to what you see in my picture.