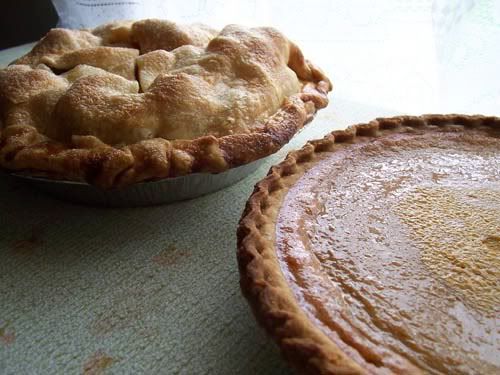 After a few months of taking care of too much stuff in real life, I am finally back to post more recipes and occasionally talk about World of Warcraft (just to put it out there, I hate Baleroc).
Thanksgiving is right around the corner and as we have done the past few years, we're going to celebrate with my BFF Jill and her family. This means copious amounts of food and Harry Potter. This year's Harry Potter aspect will consist of watching The Deathly Hallows. Though it hasn't been mentioned, I'm pretty sure it'll be a viewing of both parts.
The food aspect is much more involved. Both April and I do the cooking and this year's list is staggering; turkey, turkey gravy, turkey noodles, ham, dressing, mashed potatoes, sweet potatoes, potato salad, roasted asparagus, corn, cornbread biscuits, cranberry relish, and anything else that April added to her stuff that I didn't have on my Big List. And those are just the things for dinner. We're also doing appetizers and desserts.
With desserts come the pies. This year I'll be making pecan pie, chocolate tart pie, and the ever ubiquitous apple pie and pumpkin pie. Today I'm going to share the recipes that I use for these last two because the apple pie is, well, perfect, and I finally perfected the pumpkin pie (which was quite by accident).
Old-Fashioned Apple Pie (From Martha Stewart Living, November 2005)
4 pounds cooking apples, peeled, cored and cut into wedges
3 tablespoons lemon juice
5 tablespoons flour
1/2 cup sugar
1 1/4 teaspoons ground cinnamon
1/4 teaspoon ground nutmeg
1/4 teaspoon salt
1/4 cup unsalted butter, cut into small cubes
1 egg yolk
1 tablespoon half and half
sugar, for dusting
Preheat oven to 400 degrees. In a large bowl toss apple wedges with lemon juice and set aside. In a small bowl mix together flour, sugar, cinnamon, nutmeg and salt. Sprinkle flour mixture over apples in thirds, tossing after each addition. Fill one deep dish or two regular 9-inch pie shells evenly with apple mixture; dot evenly with butter. Whisk together egg yolk and half and half, brushing rim of pie crust. Take top crust and drape over filled pie shell. Brush top of crust with egg wash and press over hanging crust up to form a rim. Cut four slits into the top crust to allow venting. Sprinkle top with sugar. Bake pie for 20 minutes at 400 degrees and then turn heat down to 350 and bake for a further 35 minutes.

Pumpkin Pie
1 - 4 pound sugar pumpkin, roasted and flesh mashed*
3 large eggs
1 1/4 cups packed brown sugar
3/4 teaspoon salt
1 teaspoon ground cinnamon
1 teaspoon ground ginger
1/4 teaspoon ground nutmeg
3/4 teaspoon pure vanilla extract
1 cup heavy cream
Preheat oven to 350 degrees. In a large bowl carefully whisk together all ingredients listed until thoroughly combined. Pour mixture evenly between 2 deep dish pie shells. Bake for 35 to 40 minutes or until centers are almost set. Cool completely before serving.

Just as a side note, I did not make my own pie crusts. I used frozen deep dish crusts for each pie and then picked up a package of rolled pie crust for the tops of the apple pies. I'm just like that sometimes, and pie crust and I have never really seen eye-to-eye in the first place. You can make your own, if you're so inclined.
*
You can use 4 cups of the canned solid pack pumpkin in place of the mashed pumpkin, but if you decide to mash it yourself, here's how to do it: Cut the pumpkin in half with a large knife. Scoop out seeds and place halves cut side down onto a tinfoil lined baking sheet. Roast in a 350 degree oven for about an hour to an hour and a half. The outer shells will have a bit of give to them when they are ready. Remove from the oven and turn cut sides up. Allow pumpkin halves to cool completely then scoop out flesh and either puree in a food processor or take the less advanced method and mash it with a potato masher. Either one works well.