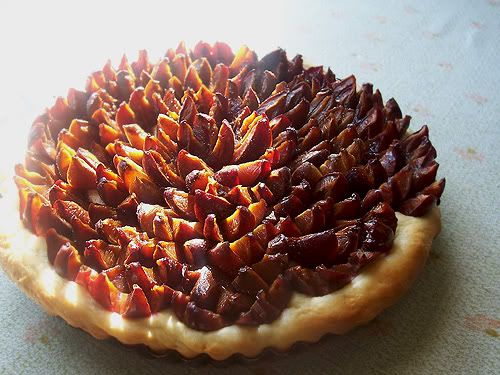 I am a big proponent of traditional foods on holidays, but I always try to add in some new things here and there to make it interesting. If the thought of having only the same pies for Thanksgiving this year makes you feel like you're stuck in a rut, give this plum cake a try. Not only is it still very fallsy, but it's refreshing, surprisingly light and can be prepared a day in advance. In fact, it's actually better the next day.
Coming from a German background has given me a great appreciation for "peasant" fare; hearty, simple, and using the foods available during the season. This is one of those type of dishes. The plums that are used for this dish are called Italian prune plums in the few stores that I've been able to find them in here, but where I come from in Germany (Rheinland-Pfalz) they're called
Quetsche
and they are a staple fruit during the tail end of summer and throughout fall. My Opa used to make Slivovitz, a Slavic plum brandy, with them and my Oma made Latwerg, an extremely thick plum butter that needed to cook for three days. My mother and I still make the Latwerg, but sadly we never did get to see my Opa make the Slivovitz. On the day of my graduation my mother presented me with a bottle that he had put up the year I was born. It was amazing....but could burn the hair off a rhino at 20 paces. The only one brave enough to have a second shot straight after the first was my sister, and she couldn't speak above a hoarse, raspy whisper for a few hours afterward. I don't think I have ever mentioned this before, but I am so glad I have the heritage that I do, it is amazing.
This recipe makes three 10 inch cakes so adjust according to your needs.
Quetschekuche
dough (adapted from a recipe in The Best Of Baking):
1/2 cup sugar
1 cup warm milk
2 packages active dry yeast
4 2/3 cups flour
1 teaspoon salt
8 tablespoons butter, melted and cooled
4 eggs
canola oil
topping:
9 pounds Italian prune plums
granulated sugar
For the dough:
Mix sugar and yeast with warm milk (between 110 and 115 degrees) and set aside to proof for 5 minutes. Meanwhile, at the Hall of Justice....uh, oops, this isn't my Useless Superheros slash page....mix flour and salt together in a large bowl. Heat oven to 220 degrees and turn off heat. Stir cooled butter and eggs into yeast mixture and pour liquid ingredients over flour mixture. Bring together into a ball, adding flour if too sticky. I made this on a fairly humid day and ended up adding about another 3/4 cup of flour before a nice soft dough was achieved. Knead briefly into a smooth ball. Place ball in an oiled bowl, spread a little oil on the top, cover with plastic wrap and put dough into preheated oven to rise.
For the topping:
While the dough is rising it's time to get your plums prepared. I forgot to take pictures of this process so I'll try to explain it for anyone who has never done it like this. Hold the plum with the stem side up, seam towards you. Using a sharp paring knife cut along seam until the plum is cut down one half. Carefully open, like you would a book, without tearing uncut half. Slide the tip of the paring knife between one side of the pit and the plum if it doesn't want to come loose on its own. Remove pit. At stem end, cut about a third of the way down on the uncut side to more easily open the plum. Make two slashes about a third of the way down on each plum half to produce the characteristic points seen in the picture. Repeat with remaining plums.
Lightly grease three round 10 inch tart pans. Remove risen dough from oven and preheat to 350 degrees (if you are using dark tart pans, reduce the heat of your oven to 325). Punch down dough and separate into thirds. Press each third evenly into each of the tart pans. Starting from the outside, lightly press prepared plums into dough in concentric rings, points facing up. Sprinkle liberally with sugar. Bake for 25 to 30 minutes, or until dough is golden and plums are a little wilted. And don't worry if you have a "plum juice puddle", it's perfectly normal. It will be reabsorbed by the plums as well as the now golden dough without making the cake soggy. Sprinkle a little extra sugar over the plums as the cakes cool. Cool completely and serve at room temperature.