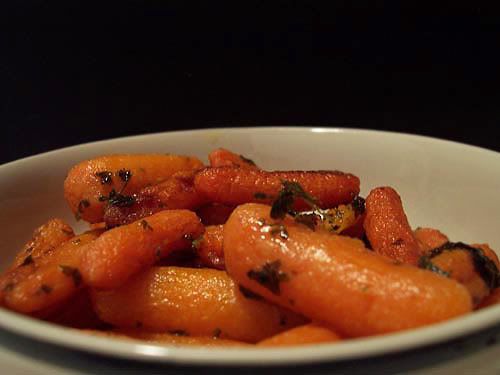 When I was growing up I really didn't like carrots that were cooked. They were mushy and pretty bland all around. It's not that my mother didn't cook well, quite the opposite in fact, I just never remember her cooking carrots in any way that was good. As I got older I began experimenting with my cooking and soon put together my first "gourmet" meal - Chicken Cordon Bleu, Potatoes Gratin, and Carrots Vichy. To this day I don't know why I chose that recipe for carrots as my vegetable, but boy am I glad that I did. I can't recall preparing cooked carrots any other way since that day.
What is also really great about this preparation method is that people who don't normally like carrots at all (let alone cooked) tend to eat these like they're going out of style whenever I make them. And they make a great alternative vegetable for corn on Thanksgiving.
Carrots Vichy
3 pound bag of baby carrots
1-2 sticks unsalted butter
1/4 cup chopped fresh parsley or 2 tablespoons dried parsley
salt to taste

Melt 1 stick butter in a large, high sided pan (I use a chicken frying pan that has 3" sides and is about 18" in diameter). Add carrots and flip to coat. Do this by flipping them in the pan as you would for pancakes, don't actually use a utensil to stir or otherwise move them around. If the carrots are not well coated and a nice bit of melted butter is not left in the pan, add as much as needed of the second stick of butter to achieve this. Place a well fitting lid on the pan and cook over medium low heat until carrots are tender. Make sure to flip every once in a while. Once they are tender, uncover, sprinkle with salt to taste and turn up the heat to medium high. Cook the carrots, flipping often, until they are browned and caramelized in spots. Sprinkle parsley over during the last 10 minutes of cooking.