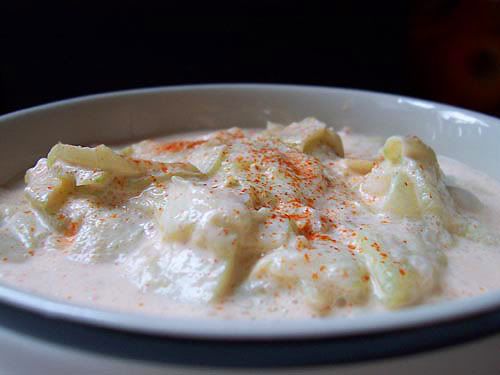 I took the turkey out of the freezer and put it into the refrigerator a couple of days ago and it's still pretty frozen. Which means that I can't post about brining it until Sunday at the earliest. In the meantime, let's talk about side dishes for Thanksgiving. Salad is a definite need on our table. In fact, we usually have two or three kinds. One of the best ones is my mother's cucumber salad. It's fabulous for Thanksgiving and fantastic any time of the year. I have converted many people over to the cucumber side of the road with this one. It's so good we even drink the dressing that's left in the bowl. Seriously.
Mrs. B's Cucumber Salad
3 large cucumbers, peeled
2 cups sour cream
1/4 - 1/2 cup vinegar
2 - 3 cloves garlic, minced
1 tablespoon sweet Hungarian paprika
salt to taste

Slice the cucumbers thinly using a mandolin (or if you're gadget-heavy like me, with your Salad Shooter) into a large bowl. Sprinkle them with about a teaspoon of salt, toss in the sour cream, vinegar, garlic and paprika. Stir the whole mess together with a wooden spoon until well combined and little bubbles have formed in the sauce. Let it rest for about five minutes. Taste it for paprika and salt and add if needed. Serve and try not to slurp the dressing when you have the bowl to your mouth.
And yes, you have to use a wooden spoon to mix it...because my mother says so.